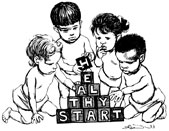 Building Blocks
to Better Babies
Cuidado Prenatal
What is Prenatal Care?

Prenatal care is the health care you get while you are pregnant.

Why should I get prenatal care?

Prenatal care can help keep you and your baby healthy.
Doctors can spot health problems early when they see mothers regularly.

Early treatment can cure many problems and prevent others.

What can I expect when I go to my prenatal doctor appointments?

During the first prenatal visit, you can expect your doctor or nurse to do the following:

Ask about your health history including diseases, operations, or prior pregnancies
Ask about your family's health history
Do a complete physical exam
Do a pelvic exam with a Pap test
Order tests of your blood and urine
Check your blood pressure, urine, height, and weight
Figure out your expected due date
Answer your questions

Later prenatal visits will probably be shorter. Your doctor will check on your health and make sure the baby is growing as expected. Most of these prenatal visits will include:

Checking the baby's heart rate
Checking your blood pressure
Checking your urine for signs of diabetes
Measuring your weight gain

While you're pregnant your doctor or healthcare provider may suggest a number of laboratory tests, ultrasound exams, and other screening tests.

What can I do to help make this a healthy pregnancy?

Take a multivitamin or prenatal vitamin with 400 micrograms (mcg) of folic acid every day.
Get early and regular prenatal care.

Whether this is your first or your third pregnancy, health care is extremely important.
If there are any problems, early action will help you and the baby.

Eat a healthy diet that includes fruits, vegetables, grains, and calcium-rich foods. Choose foods low in saturated fat.
Unless your doctor tells you not to, try to be active for 30 minutes, most days of the week. If you don't have much time, get your exercise in 10 minute segments, three times a day.
If you smoke, drink alcohol, or use drugs, STOP!

These can cause long-term harm to your baby.
Ask you doctor for help.

Ask your doctor before taking any medicine.

Some medicines are not safe during pregnancy.
Also ask before taking any over-the-counter medicines and herbal products.

Avoid hot tubs, saunas, and x-rays.
If you have a cat, have someone else change the cat litter.

A parasite sometimes found in cat feces can cause an infection called "Toxoplasmosis"

When left untreated toxoplasmosis can cause birth defects.

Don't eat uncooked or undercooked meats or fish.
Stay away from chemicals like insecticides, solvents (like some cleaners or paint thinners), lead, and mercury.

Not all products have pregnancy warnings on their labels.
Ask your doctor if you're unsure whether or not a product is safe before using it.

Avoid or control caffeine in your diet.

Pregnant women should have no more than two servings of caffeine per day.
Remember that teas, sodas, and chocolate may contain caffeine.

Stay active during your pregnancy (as long as your doctor says it's okay).
Get informed. Learn everything there is about your pregnancy and your baby.

Attend health education classes at Healthy Start.
Attend childbirth education classes.
HEALTHY START (COMIENZO SANO)
(219) 989-3939

Nota: Esta información está para los propósitos educativos solamente. Para el consejo médico específico, las diagnosis, y el tratamiento, consultan por favor a su doctor o abastecedor del cuidado médico.
Apoyado en parte por project H49MC00083 del departamento de ESTADOS UNIDOS de los servicios de salud y humanos, de recursos de la salud y oficina de maternal y de niño de los servicios de la salud de la administración, (título V, acto de la Seguridad Social).
Fuente: http://womenshealth.gov